National institute of open schooling (NIOS) October 2019  has released result for class 10 and class 12 today.
The students can check their result at the official website of the NIOS Board by  logging into the  website:
Student can also  check their result at https://results.nios.ac.in/
NIOS  conducts  public exam twice a year in the month of April- May and October November. This year  approximately 3.5 lakh appeared for October -November 2019 Public exam. Exam Started in the 1st week of October 2019 and ended in 1st week of November,2019.
HOW TO CHECK NIOS SECONDARY(10TH) AND SENIOR SECONDARY(12TH) COURSE RESULT?
Steps to check nios secondary ( Class 10th) result:
First Step: Visit the official website of Nios i.e  nios.ac.in
Second Step: Go to result tab:
Thirst Step: The above step will direct user to Exam result page: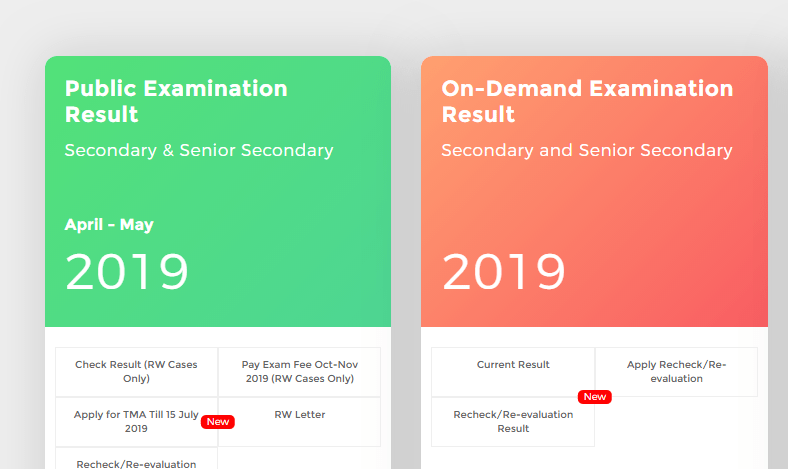 Fourth Step: Enter the details such as enrollment number asked in the website and submit.
Results will be displayed on the screen.
Take Print out or save in PDF format.
Students will receive their hard copy of Certificate within one or two week from the AI center.
Direct linhttps://results.nios.ac.in/k for result.
WHAT AFTER NIOS SECONDARY?
1. The students who had passed secondary( Class 10th) course can take admission in senior secondary course:
Last date for Block –II Stream is 31st January, 2020 with normal Fee.
1st February, 2020 to 15th February, 2020 with Late Fine of Rs 200
16th February, 2020 to 28th February, 2020 With late fine of Rs 400
1st March, 2020 to 31st March, 2020 With Late fee of Rs 700.
Basic Document required for admission in NIOS senior secondary (12th ) course:
Recent Passport size color Photograph
Signature (preferably in Black Ink)
Valid identity proof (like Aadhaar Card or Passport or Ration card or etc.)
Valid proof of Date of Birth (like Aadhaar Card with date of birth printed on it in the dd/mm/yyyy format, Birth Certificate etc.)
A valid proof of Residence (like Aadhaar Card with complete address printed on it, valid Passport etc.).
Address proof i.e. Aadhaar Card/Water Bill/Electricity Bill/Voter ID/Ration Card/Indian
Passport/Statement of Operational Bank Account/Appointment Letter from the Employer on Printed Letter Head, if living in rented accommodation – copy of any proof of permanent address along with present Rented Agreement
Class 10th mark sheet
The NIOS passed out student also take admission in other central Board Namely: CBSE and ICSE and other regional /State Board.
For taking admission in CBSE and other Regional/State Board, the student will have to full fill the eligibility criteria of that Board.
The students who has not passed the exam can fill up his/her exam form April –May 2020 Examination
To Know about Last Date of Examination form fills up: Click here
Question 1: I have failed in one or two subjects Can I appear in April 2020 exam?
Answer: YES, A students who has not cleared the examination can appear in April 2020 Examination by paying requisite examination fee.
Question 2: Can I appear in examination before April, 2020.
Answer: Yes, The student who is already enrolled in NIOS or one who had failed in the examination and wanting to appear as early as possible can sit for On Demand examination by registration themselves at Board website .
Question: Can I apply for re-evalution or recheck of my Answer script?
Answer: Yes, the student can apply for recheck / re-evaluation of the answer script by applying at Board's Website.
Question 3: I have passed senior secondary (Class 12th) Examination from NIOS. Can I take admission in regular college?
Answer: The students who have passed senior secondary (Class 12th ) from NIOS can take admission in other regular college/university by fulfilling eligibility criteria of that college/University.